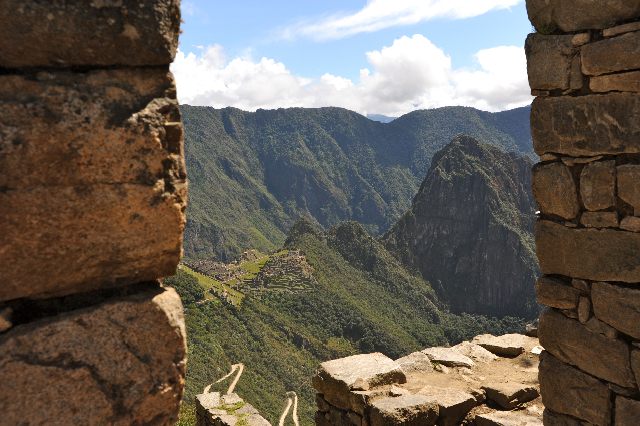 1. Longitude and Latitude Machu Picchu
Machu Picchu's geographical position is 13.1631° S, 72.5450° W. It's located 74.7 kilometres (46.4 miles) from Cusco. See How To Get To Machu Picchu
2. Size of Machu Picchu
3. Temperature at Machu Picchu
During the warmer months of September, October, November and December the weather is fairly mild with a good average temperature of between 8 degrees celcius (44 degrees F) and 20 degrees celcius (68 degrees F).
4. Population of Machu Picchu
The population of Machu Picchu was most likely between 1,000 and 1,200 at any given time – but the ruins have been uninhabited for hundreds of years now. Today – the closest town to Machu Picchu is Aguas Calientes, with a permanent population of around 3000 people.
5. Languages Spoken in and Around Machu Picchu
The native spoken language is 'Quechua' – the ancient Inca language. Spanish is the colonial language, introduced by the Spanish on their arrival in November 15, 1532
6. Weather And Seasons at Machu Picchu
Machu Picchu is usually covered in mist until mid morning, giving it the feeling of hovering amongst the clouds. Most rainfall (during the rainy season) is seen in December, January, February and March. Machu Picchu has dry periods in May, June, July, August and September. On average, the warmest month is September. See Best Time To Visit Machu Picchu
7. Meaning of the name Machu Picchu
In the Quechua native language, "Machu Picchu" means "Old Peak" or "Old Mountain."
8. Machu Picchu's Global Significance
Machu Picchu is recognised as one of the Seven Wonders of the World and is featured on many intrepid travellers bucket list.
9. Machu Picchu Transport
There are several options for getting to Machu Picchu, other than by foot of course. Trains operate, as do busses, both public and private. Small group tour busses are less crowded if you can find them. You can visit this page for more information about transport to Machu Picchu.
10. Fitness For Machu Picchu & Other Hiking Options
Machu Picchu is a city at altitude, so it's a great idea to stay a few days and enjoy being treated to some authentic Peruvian hospitality. It's a pleasant day hike from Aguas Calientes if you are only interested in a flying visit to Machu Picchu itself. If you are going to walk one of the "trip of a lifetime" journeys to get there however, you'll need a moderate level of fitness. Again, taking your time to acclimatise and investigate the local villages, or other ruins along the way makes for a much more "cruisy" (as we say in New Zealand) adventure to the city in the clouds.
Related Content:
Source: activeadventures.com