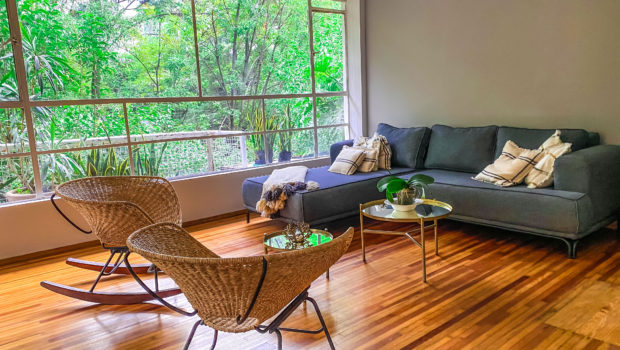 During our most recent visit to Mexico City (an extended layover and research trip to write a feature for TravelAge West), my husband and I stayed at a lovely Airbnb in Condesa, one of the most beautiful and hippest neighborhoods in Mexico City.
Located on Avenida Amsterdam, a leafy, circular avenue that traces the lines of a racetrack once located in the neighborhood, this Airbnb rental in Mexico City is a stylish one-bedroom, one-bathroom property that appears to have been recently renovated. Based on my research, it appears that Airbnb rentals in Mexico City are cheaper now as a result of decreased demand during the coronavirus pandemic, so this was an especially good find.
Airbnb Check-in Process
Our check-in went quite smoothly; we advised the apartment manager (Alejandra) ahead of time about our flight arrival; she was out of town so she had someone else waiting for us when we got there. There is no doorman at this building (which is fine with us; quite often it's more convenient to not have a doorman — I once had to wait 15 minutes to get into an Airbnb rental in Guadalajara because the doorman was on toilet break). The woman gave us a tour of the apartment and handed over two sets of the keys. Alejandra was always fast at responding to any questions that I had.
Pandemic Hygiene & Safety
This Mexico City apartment rental has met Airbnb's "Enhanced Clean" guidelines for more rigorous cleaning and disinfecting. The woman with the keys was wearing a mask and we did too. On the desk in the bedroom we found hand sanitizer and antibacterial wipes, which we used to clean "high-touch" areas like light switches and doorhandles.
What We Liked About This Airbnb Rental in Mexico City
• Condesa is one of the city's most desirable and interesting neighborhoods, with lots of restaurants and cafes and a couple gorgeous small parks.
• Avenida Amsterdam is a prime street, since it's centrally located, not noisy and graced with a lovely pedestrian promenade that's lined with trees. You'll see people jogging, strolling and walking their dogs beneath the shady trees.
• The apartment itself is very tastefully decorated, with a spacious living dining area, hardwood floors complemented by the greenery of plants, handsomely understated furnishings that appear to be quite new, and a kitchen that also appears to be new, with wood cabinets that almost seem like décor from a trendy office or restaurant (even the refrigerator door and washing machine door match the cabinets).
• The lighting is great throughout, with dimmer switches in every room.
• There is a narrow but cute balcony that overlooks the avenue — it's not quite wide enough to sit comfortably, but it's nice to step outside (It's also the smoking area, in case you smoke).
• The view from the living/dining area is naturally beautiful. Since Amsterdam Avenue has so many trees, the view from this 3rd-floor apartment is pretty much just that: trees. It almost seems like you might be staying in the countryside rather than the city.
• The bedroom has both a ceiling fan and a small table fan — both of which were extremely effective to keep the room feeling fresh when we slept. (Note to every other Airbnb owner: the entire world would be better with ceiling fans.) There is no air conditioning, but it wasn't necessary with Mexico City's cool, spring-like weather when we visited in August.
• There are multiple work areas, including a desk in the bedroom, a desk in the extra lounge area and a large, six-person dining table that could easily serve as a conference or coworking space, which makes this an excellent choice for singles or couples who are traveling for work or need to work on vacation.
Other Things to Consider About this Airbnb Rental
• The apartment is on the second floor (and they use the Mexican and European numbering system, so if you're from the United States, that means it's on the third floor), and there is no elevator.
• The kitchen is modern and beautiful but has no microwave (but there is a toaster oven and a full-sized oven).
• There is no washer or dryer and no television (which is odd since there is a very comfy second living area, something like a lounge, with a couch that faces an empty wall that would be perfect for a television).
• The nearest Metro station is about a 12-minute walk.
BEST FOR: This Airbnb rental in Mexico City is best for couples and singles looking for a comfortable and stylish apartment at an affordable price in one of the city's most desirable neighborhoods. It's also good for business travelers looking for extra space to spread out.
Source: latinflyer.com