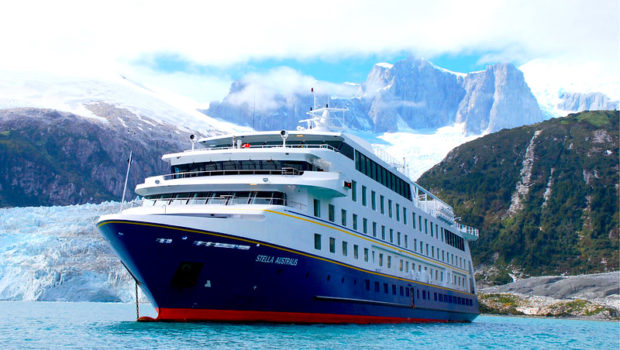 The name Patagonia conjures lots of spectacular images: soaring mountains, dramatic coastlines, massive glaciers and thick forests. This legendarily beautiful region at the southern tip of South America is a bucket-list destination for many travelers. And a cruise is the best way to take in all of the wonders of Patagonia's incredibly diverse landscapes. But what should you know before you go?
These Patagonia travel tips can help you prepare for what will likely be one of the most memorable experiences of a lifetime.
1. Know How to Get There
Considering that Patagonia spreads across the southern parts of both Argentina and Chile and spans more than 402,000 square miles, it's no wonder that a guided tour is the easiest and most efficient way to take it all in. Our South America tour partner, Coddiwomple Journeys, offers a 12-day/11-night Argentina and Chile by Land and Sea itinerary that includes a four-night cruise through the Patagonia region, past the Magellan Strait and Cape Horn to the Chilean city of Punta Arenas. You'll be able to explore both Torres del Paine National Park and Tierra del Fuego National Park, join thrilling zodiac boat rides and shore excursions, and gaze in wonder at the Aquila Glacier and Pia Glacier.
2. Time Your Trip
Patagonia cruises don't operate during the winter season, so you'll want to plan your trip sometime between September through April (remember, the seasons are reversed south of the equator). Some experts consider January and February the very best months to visit, since mid-summer offers especially pleasant temperatures and calm seas that are perfect for sailing.
3. Check Out the Ship
Australis is the only cruise line that operates complete expedition cruises in Patagonia. Coddiwomple Journeys' partnership with Australis assures that travelers will have access to the best cabins and all the information they need to make the most out of the trip. The Patagonia cruise takes place aboard the Stella Australis, a 200-pasenger ship with 100 well-appointed cabins that measure up to 222 square feet. In other words, you won't have to give up on comfort to see the sights. Cabins are equipped with 220 volt plugs, and plugs for both 220 volts and for 110 volts are in the bathrooms.
Should you need any last-minute items, the Stella Australis has an on-boad shop, and you can use credit cards as well as U.S. dollars, Euros, Chilean pesos and Argentinean pesos to buy souvenirs and gear.
While on board, you won't have to worry about anything other than enjoying the scenery, and learning as much as you like about Patagonia. Breakfast, lunch and dinner are included, and there's a bar for refreshments. You can also join activities like informative presentations and lectures about the places you'll be visiting.
4. Get Ready for Entry
U.S. and Canadian citizens don't need a visa for visits to Argentina or Chile if they're staying 90 days or less. Travelers from other countries can check with consulates to verify entry requirements.
5. Dress Appropriately
Weather conditions can vary widely during a Patagonia cruise, and you likely will be doing quite a bit of walking and exploring. So, as you pack, you need to be prepared for sunshine, rain, wind and possibly even a bit of snow. Temperatures can range from the 40s to the 60s, so multiple layers of warm and waterproof clothing that are designed for action are always a good idea. Since temperatures can get a bit chilly, even during the summer, sweaters, jackets and long pants are a must, too. Don't forget gloves and hiking boots or shoes, so you'll be comfortable when you head off the ship to explore with Coddiwomple's expert guides. A hat, sunglasses and sunblock are also must-brings on any Patagonia cruise.
6. Be Ready to Take Photos — and Learn
Patagonia's natural beauty is so intoxicatingly diverse, it goes without saying that you'll take countless photos when you visit. So be sure to bring at least one camera, and leave lots of memory available on your cell phone and other devices, too. But note that the use of drones is prohibited — and on Magdalena Island, you can't use selfie sticks, either as they might disrupt the wildlife.
You might also want to consider reading up about Patagonia, to provide you with solid background about what you'll be seeing. During the Patagonia cruise, of course, expert guides and on-board lectures will fill you in about everything from historic navigation routes to local flora and fauna, indigenous culture and glaciology.
7. Prepare Your Body and Your Mind
There's a lot you can do to get the most out of your Patagonia cruise. Gentle exercise in the weeks and months before your trip, for example, can help you to be in prime shape for exploring. The more active you are, the more you'll be able to get out and appreciate the region's natural beauty.
A Patagonia cruise is also a great opportunity to get your tongue in shape. Guides and crew speak both English and Spanish, and some speak even more languages. But many travelers enjoy practicing their Spanish, making the trip even richer and more immersive.
With its insight and expertise about South America, Coddiwomple Journeys is well positioned to help make a Patagonia cruise the experience of a lifetime.
Source: latinflyer.com