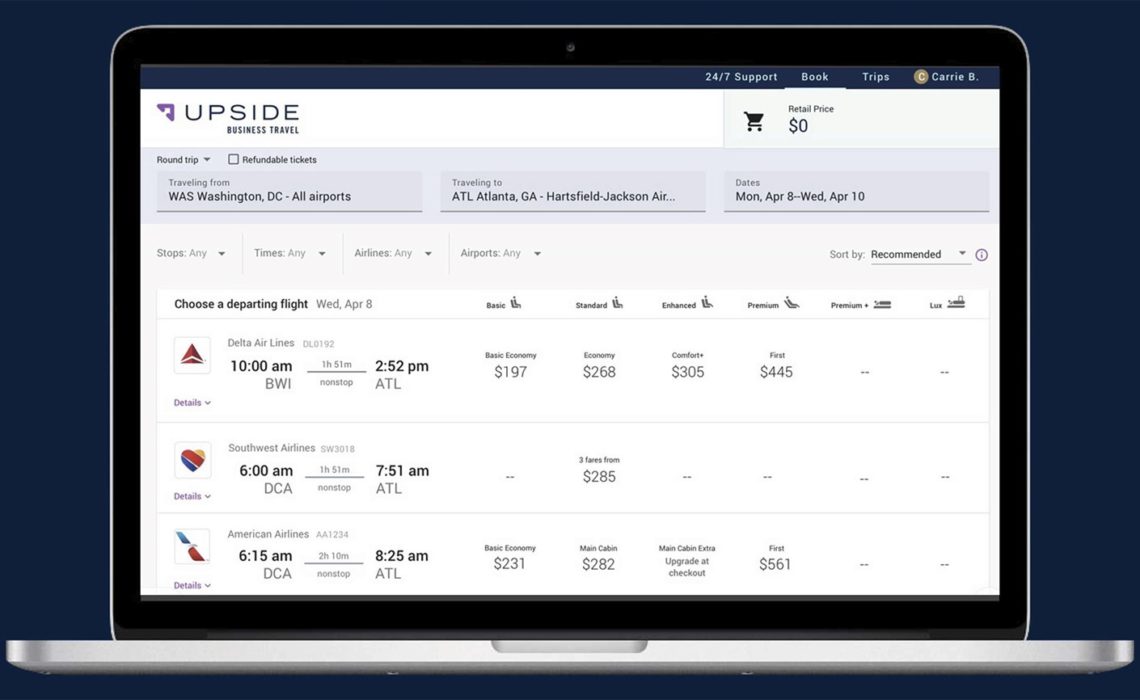 NATIONAL HARBOR, Maryland — An ATPCO advisory board comprised of more than 30 airlines and more than 30 distribution channels has agreed upon a display standard for the domestic U.S. version of Next Generation Storefront (NGS).
NGS is a data standard designed to enable third-party distribution channels to find, sort and display the full product offerings of airlines in a consistent and impartial way. The data standard takes advantage of ATPCO's strategic position in the airline distribution ecosystem as the depository for fare and ancillary product filings.
The standard will soon be published and the first distribution channels, including corporate booking tools and OTAs, could begin offering comparative shopping displays based upon the standard within a couple of months.
Sales channels that use the storefront will design their own displays. But in early examples, shoppers will see prices for each airline laid out horizontally and by fare product. For instance, if American and Delta both fly a particular route, the display would show the prices of an American flight separated by basic economy, economy, Main Cabin Extra and first class. On the next line, the same type of data would be shown for Delta. ATPCO refers to this search display as "shelves."
When a shopper clicks on a particular flight, he or she is to be shown what ATPCO calls "drawers." Those drawers provide a standardized set of additional data, including information on seat pitch, baggage fees, seat selection fees, inflight entertainment offerings, WiFi, food offerings and more.
Shoppers can view comparable product offerings of multiple airlines on a single drawer display, said Carrie DeMoss, ATPCO's director of channel retailing.
"From a shopper's perspective, you are going to have a consistent understanding of airlines' offer in one place," DeMoss said. For airlines, she said, NGS makes it easier to show multiple products and to encourage buy-ups.
As the standard has been developed, it has been trialed by corporate booking tools such as Upside and TripActions, and by Sabre and Travelport. Google is also trialing NGS along with three airlines, Gianni Marostica, Google's director of global business partnerships, said during the ATPCO Elevate conference on Tuesday.
Hillary Yale, Upside's director of supplier relations, said that since beginning the trial in April, Upside has seen a 62% increase in premium product sales.
TripActions director of transport supply Anna Jeanblanc said that in the first quarter after implementing NGS, the company saw a 33% jump in bookings.
The NGS standard for U.S. domestic flights has been developed over the past year. ATPCO said Tuesday that advisory groups for transatlantic and transpacific ticket distribution, as well as for ticket sales on flights within the Asia Pacific region and Canada, have now convened.
During a panel at the conference, executives of larger OTAs called the display standards an important development for the industry. But they also emphasized that OTAs will still customize displays based upon the needs of their distinct customer bases.
"It's important to remember that every channel is going to be extremely different," Skyscanner vice president of product Piero Sierra said.
Sierra said Skyscanner expects to begin NGS trials in partnership with five airlines by the end of the year.
But he added that in a year's time, he expects the standard to still be in its infancy industrywide.
Marostica also said implementation will be gradual, adding that it takes a lot of trial-and-error.
"It is definitely worth doing [even though] it is going to take some time," he said.
Source: travelweekly.com