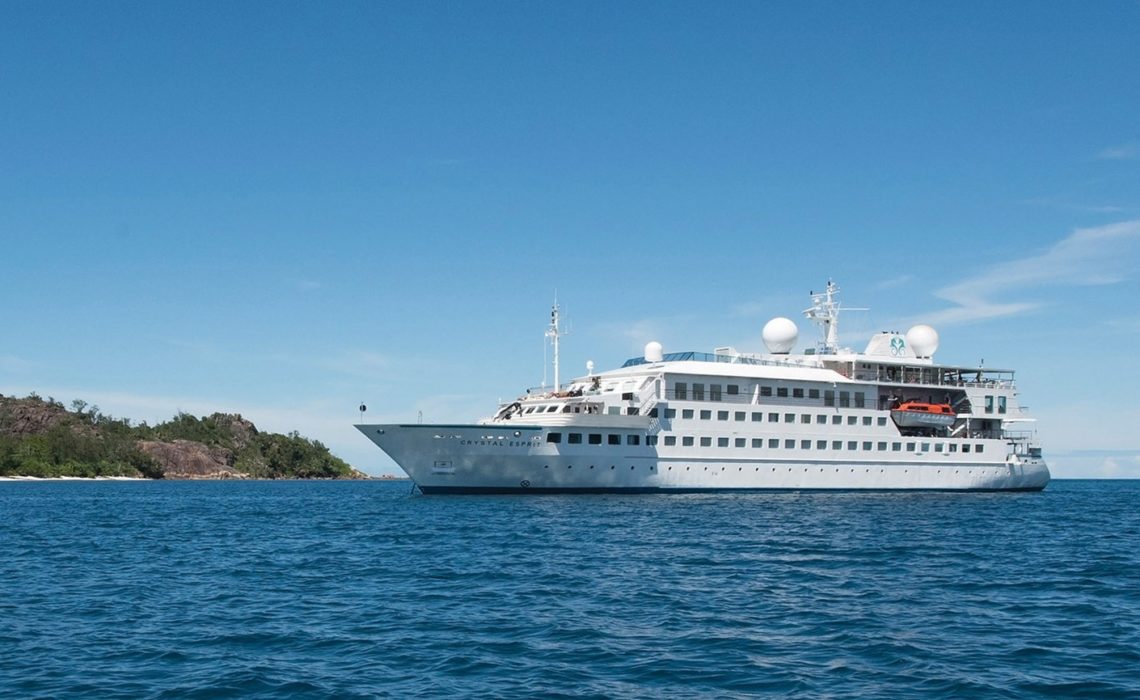 The bread-and-butter itinerary for a luxury cruise line is something in the 10- to 28-day range. But Crystal Cruises is offering more seven-day itineraries in a bid to appeal to a younger demographic.
"In 2022, the ships collectively will offer 21 seven-night voyages, and this is more than we've ever offered before," Crystal CEO Tom Wolber said in a presentation to agents aboard the 2019 Crystal Sales Gala cruise.
"These voyages are really perfect for multigenerational travel, for people with busy schedules and for people who want to try Crystal for the first time," Wolber said.
Shorter itineraries are just one part of a plan to lower the average age of Crystal's passenger base, something agents have expressed concern about at past Gala events.
A big factor in lowering Crystal's age profile has been the diversification of its fleet over the past four years away from traditional luxury ocean cruising into the river, yacht and expedition segments.
The Crystal Esprit, for example, the line's 62-passenger megayacht, which sails in the Seychelles and the Adriatic Sea, draws more youthful passengers than Crystal's two luxury ocean ships, said Mark Spillane, director of sales and marketing for Crystal Yacht & Expedition Cruises.
"The Esprit is really doing its job in bringing in younger guests to the Crystal experience who can then move up to other products," Spillane said.
The Esprit does not prioritize high-profile luxury ports, either, so its more rustic itineraries also tend to appeal to younger guests.
The Crystal Endeavor, the line's 200-passenger luxury expedition ship coming in 2020, will share some of the same dynamics. Among its voyages will be two Antarctic expeditions to the Ross Sea via Tasmania and New Zealand, which will present some Zodiac-landing challenges for older guests.
Other remote destinations on the Endeavor's first year of itineraries include Russia's Kamchatka Peninsula and the isolated Pribilof Islands in the Bering Sea.
Spillane said the average age for passengers booked on Endeavor is 65, but it skews younger on "all the rugged itineraries."
Vicky Garcia, COO and co-owner of Cruise Planners, said the "youthening" of Crystal was evident at the Gala presentations in everything from advertising imagery to shore excursions and entertainment.
"There's more seven-day cruises and more [combinable] back-to-back seven-day itineraries," Garcia said.
Carmen Roig, senior vice president of marketing and sales at Crystal, said the line's target customer is between the ages of 55 and 64 and has an annual household income of $150,000 or more or assets of $1 million or more. Last year, the average age of guests for the luxury ocean product was 61 for new passengers and 68 for repeat passengers, Roig said.
To increase its appeal to younger guests, Crystal has also been adding to its shore excursions and updating its onboard entertainment.
Crystal passengers can fly in a fighter jet trainer in New Zealand or take a Ferrari for a spin through the streets of Singapore. In Alaska, Crystal will dock at Icy Strait Point, where guests can take a helicopter to the top of a steep peak, then ride a mountain bike back down.
John Stoll, the line's vice president of land programs, said there were three takers for the 30-minute Top Gun Fighter Jet Experience last year.
On the ocean ships, the line's vice president of entertainment, Keith Cox, said he hoped that younger guests would enjoy Crystal on Broadway, which brings together producers, entertainers and other artists associated with Broadway hits for exclusive performances and behind-the-scenes storytelling on select cruises.
As for the river ships, Broadway singer Rachel York will be featured on a Sept. 1 Crystal Ravel sailing on the Danube.
Source: travelweekly.com