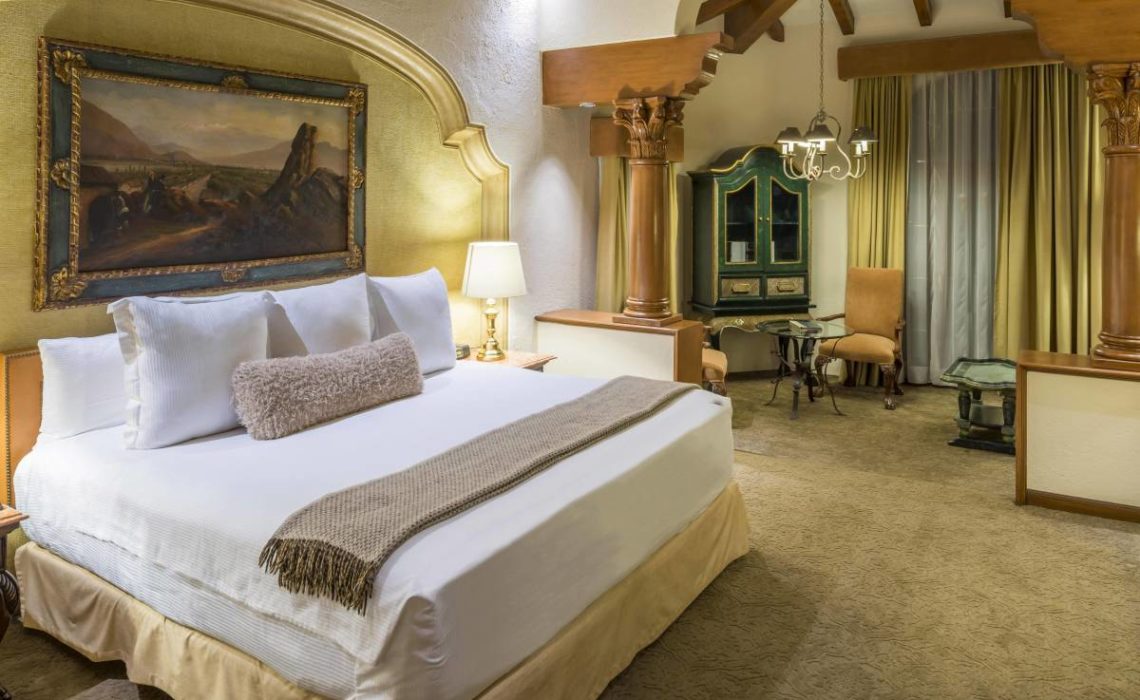 I was shocked when I found out the affordable room rates at one of the most luxurious hotels I've visited in Guadalajara.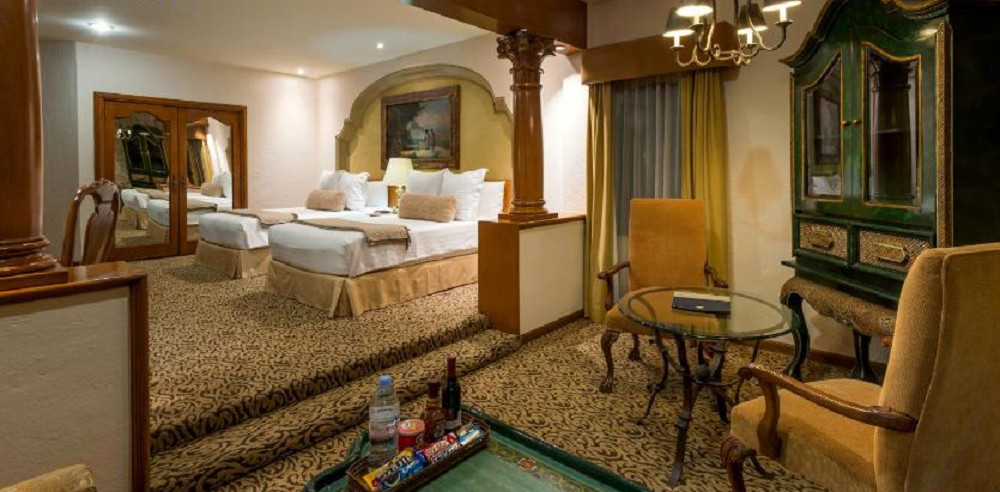 During a recent press trip to write a cover story about tourism in Guadalajara for TravelAge West, a travel industry magazine, I was a guest at Quinta Real Guadalajara, a luxury hotel in Guadalajara that is one of the most unique properties I've visited in the city. This is a review of my experience.
THE STYLE: Something like a cross between a Mexican hacienda and an Italian villa, the Quinta Real is a lovely oasis of calm in the heart of Guadalajara, Mexico's second largest city. It features traditional, sometimes rococo décor elements, spread across lush green grounds punctuated with modern sculptures (the property, in fact, was once owned by the affluent family named Martinez, and some of the former owners' antique furniture and artwork is still a vibrant part of the decor, contributing much to the ambiance).
The small lobby is decorated with comfy couches, and I'm always a fan of any hotel that allows guests to be seated during check-in; there is no stand-up desk here.
A member of Preferred Hotels & Resorts (in the L.V.X. category), the Quinta Real Guadalajara a good option for anyone who loves luxury hotels that exude a traditionally elegant ambiance, and also those who prefer staying in a centrally convenient location, minutes by car from the city's most popular attractions, restaurants and shopping.
THE HOTEL ROOM: I stayed in room 500, a spacious fifth-floor accommodation in a compact, five-floor tower. The room felt especially grand, thanks to its high ceiling with wood beams and sunken living room separated from the sleeping area by an arched divider and wood pillars. Waking up every morning, I enjoyed stepping onto my lovely private balcony that overlooked a patio, where a large blooming jacaranda tree was blossoming with gorgeous purple blooms. It felt a bit like a storybook, and it was hard to tell I was still in the heart of one of the bustling city's upscale neighborhoods.
The room was graced with several large paintings, as well as amenities including a mini bar, work desk, safe deposit box and a comfy king-size bed. The bathroom was equally ample in size, with two sinks, plenty of lighting options, a makeup table and a large walk-in shower.
HOTEL AMENITIES & FEATURES: The central garden courtyard is lovely, and it has a small swimming pool at one end. Alongside the courtyard is Tierra Mía, a sumptuous upscale restaurant that serves expertly prepared Mexican and international dishes, with gourmet flair and extremely attentive service.
Another nice plus: The gym is free to access and is located in the top floor of what looks like yet another villa. It's well equipped and is one of the few hotels I've visited that actually leaves out breakfast (yogurt and granola) in the morning for guests. I'm not a breakfast person, so I loved being able to work out in the morning and then pick up a quick bite to take back to my room.
BEST FOR: Upscale travelers looking for elegant and traditional style. And yet the prices can be surprisingly easy on the budget considering that this is definitely a luxury travel experience. Rates start as low as $107 a night (click on LatinFlyer's ad for Hotels.com for some of the absolute best rates available around the globe).
Source: latinflyer.com