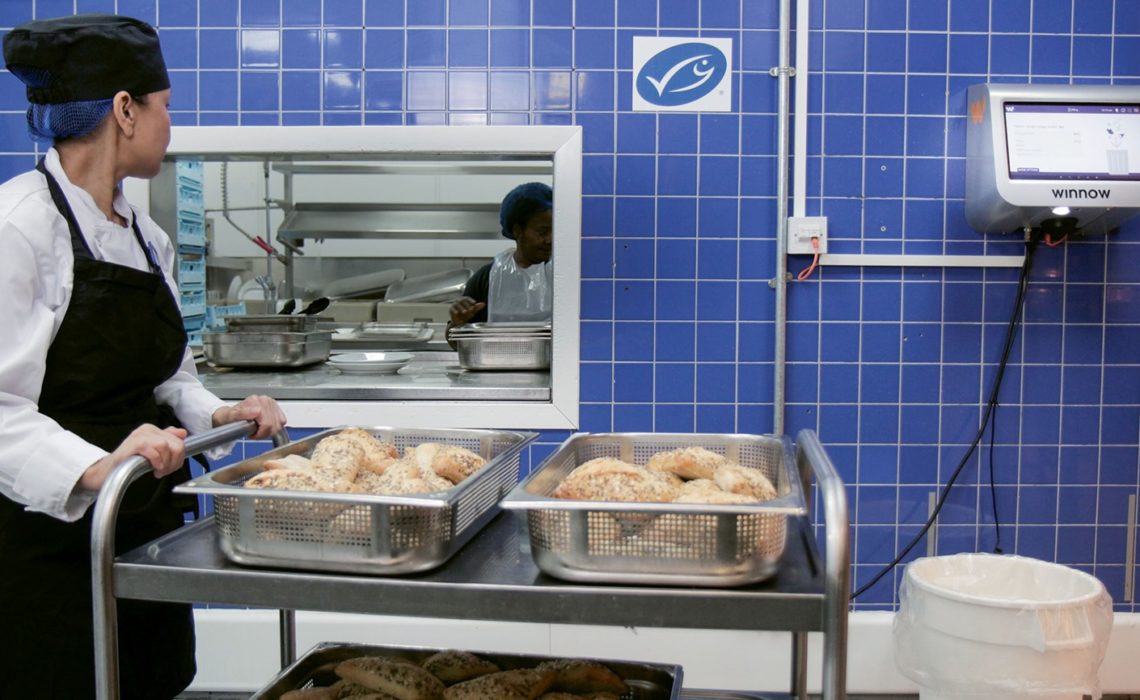 Although the hospitality sector has sometimes been slow out of the gate on sustainability improvements, hotels are proving to be ahead of the curve when it comes to curbing food waste.
"The hotel segment isn't necessarily the segment of the food and beverage industry that one always looks to for leadership in culinary trends," said Ned Barker, founder and CEO of the consulting firm Grill Ventures International and a consultant for the American Hotel and Lodging Association's (AHLA) food and beverage committee. "However, in the case of food waste, as far as the U.S. is concerned, I think our part of the industry is very much leading the way."
By any measure, the amount of food waste that ends up in landfills is staggering. According to data supplied by the AHLA, roughly 63 million tons of food are wasted each year in the U.S. alone, with some 40% of that volume coming from consumer-facing businesses, including hotels.
The environmental impact of that waste is also substantial.
Caitrin O'Brien, senior manager for corporate sustainability at Hilton, said, "Food production is the single biggest contributor to global deforestation, biodiversity loss and water extraction. And with one-third of food globally wasted, that means that we've wasted a significant amount of land and resources."
Meanwhile, with composting difficult to achieve at scale, the vast majority of food waste ends up in landfills, where it causes further environmental harm.
Marc Zornes, co-founder of artificial intelligence-based food management tech firm Winnow, said, "When you throw food into a landfill, it decomposes and creates methane, which is a very strong greenhouse gas. It doesn't really become reusable, and food waste is tied to about 8% to 10% of global greenhouse gas emissions."
Founded in 2013, Winnow is one of several new innovators seeking to tackle food waste. The company's latest technology, Winnow Vision, uses cameras and artificial intelligence to evaluate discarded food, then analyzes and attaches a cost to the food that was wasted, enabling chefs to better plan ahead.
An entry-level Winnow system typically costs a couple thousand dollars to install, but according to Zornes, the tech can deliver anywhere between a 200% and 1,000% return on investment within the first year.
"We're saving each site thousands of dollars a year in food costs," Zornes said.
He estimates that Winnow is deployed in some 1,300 kitchens globally, including at select Accor, InterContinental Hotels Group and Hilton properties.
"It's something that makes economic and environmental sense," he said. "We're seeing a growing number of large organizations say they're going to have a target for food waste reduction as a business."
Among the industry heavyweights that have made such pledges is Marriott International, which has set a goal of cutting its food waste by 50% by 2025. The company has begun implementing various food waste-reducing procedures, including the utilization of the food waste-tracking technology Leanpath, as well as partnerships with organizations that are able to donate unconsumed food to those in need or turn food scraps into animal feed.
Denise Naguib, vice president of sustainability and supplier diversity at Marriott International, said, "No one really wants to throw away perfectly good food, but we've been seeing particular interest in the issue from corporate customers who are hosting meetings and events. There's definitely corporate demand for this on the consumer side, and it's that consumer demand that will really help us as an industry move forward."
Also making notable strides on the food waste front is Accor. According to Amir Nahai, Accor's CEO for food and beverage and lifestyle, the company managed to reduce food waste by 52% in 92 hotels in 2017 and by 31% across 282 hotels in 2018.
This year, Accor debuted an internal Love Food Not Waste initiative, offering Accor properties individually tailored food waste-management recommendations. The group also has a partnership with Too Good to Go, an app designed to help kitchens save food that would otherwise be thrown away.
"Many owners are aware of this major challenge and recognize the role that the hotel industry has to play in addressing it," Nahai said. "We also involve our guests in our food waste-reduction initiatives with positive messages about portion size, such as the launch of our 'Clear Your Plate' campaign in Asia."
Further supporting hotelier efforts to cut food waste is the AHLA, which in 2017 collaborated with the World Wildlife Fund and the Rockefeller Foundation to launch the Hotel Kitchen program, a toolkit offering hotels a roadmap for food waste reduction.
One of the biggest issues the Hotel Kitchen platform addresses is food waste generated by buffets.
"Hotel buffets have been in the habit of using these big, beautiful dishes and filling everything up so you don't have to replenish it," said Grill Ventures International's Barker. "But then you end up overstocking and over-prepping."
Instead, Hotel Kitchen recommends using smaller vessels on the buffet line and replenishing as needed. For traditional dining venues, the toolkit recommends offering more variety in portion size by providing guests options for a smaller version of an entree or a selection of sharable plates. Other opportunities to cut waste include nixing the complimentary bread basket or charging guests a nominal fee for bread.
Hilton's O'Brien said, "Hotel Kitchen is really comprehensive and walks hotels through all the steps."
She added that the toolkit has been implemented across all 250 of Hilton's managed properties in the Americas as part of the company's goal to halve its food waste by 2030.
"Yes, food waste is a big challenge in the hospitality industry, but it's also something that the industry is really coming together to focus on, and that has been incredible to see," O'Brien said.
Source: travelweekly.com