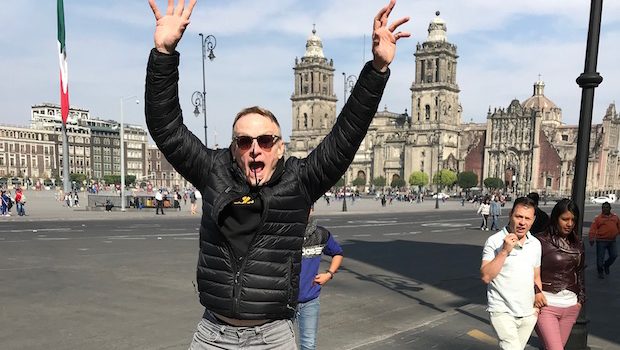 During my most recent visit to central Mexico, I traveled with my best friend from high school (his name's Mark Porter) on a multi-destination vacation that started in Mexico City, then headed to Querétaro, San Miguel de Allende and Guadalajara. During that trip, we had many conversations about why Mexico is such a great vacation destination for people who want value and great experiences at a cheap price.
We talked about comparing the value of a Mexico vacation compared to a vacation in the United States. Mark Porter — who's a total budget guru in every aspect of his life — had been taking Florida vacations on a regular basis for several years. He used to get airfares of about $250 roundtrip from Chicago. But then he'd have to rent a car, which cost about $450 total after several days. The cheapest hotel room near the beach would be about $150-$175 a day.
Compare that to Guadalajara, where we paid about $67 a day for a two-bedroom, two-bathroom apartment on Airbnb, complete with a balcony, a doorman, swimming pool and rooftop gym — all in one of Guadalajara's nicest neighborhoods for strolling, dining and nightlife.
The airfare is also worth comparing. Just a few months ago I paid just over $200 roundtrip to fly Volaris between New York City and Guadalajara (cheaper than what I often pay to fly to Florida). Plus, once you get to Mexico's main cities and towns, you don't need to rent a car. Uber is super cheap, safe and convenient.
Even if you plan a multi-destination Mexico vacation like we did, you still don't need to rent a car. There are flights between some cities, of course, but they can be pricey. But first-class bus service in Mexico is affordable and absolutely comfortable — think business-class seats that recline, free snacks and refreshments on board, inflight entertainment and WiFi. (This ain't Greyhound and it ain't Megabus, people.)
Of course, once you're in Mexico you can eat very well on a budget. Stylish and sophisticated restaurants and cafes dot the big cities like Mexico City and Guadalajara, and there's also lots of entertainment options, as well as countless tourism sites and activities.
Long story short: If you think you're spending less money by traveling domestically, you might want to think again. Add up all the true expenses, and then compare them to what you'd spend if you travel abroad. You might be surprised — and might find yourself taking more magnificent vacations in other countries (especially nearby Mexico).
Consider all of these expenses:3
• Airfare
• Rental car
• Hotel or apartment/home rental
• Food and entertainment
• Local transportation
If you add all of this up for any given U.S. vacation and then compare it to a similar vacation in a destination like Mexico, the numbers may very well stack up in favor of you traveling abroad. And that's exciting!
Check out the video to see more of what we love about Mexico — and to also find out what Mark Porter's favorite cities in Mexico are, for living and for visiting.
Source: latinflyer.com