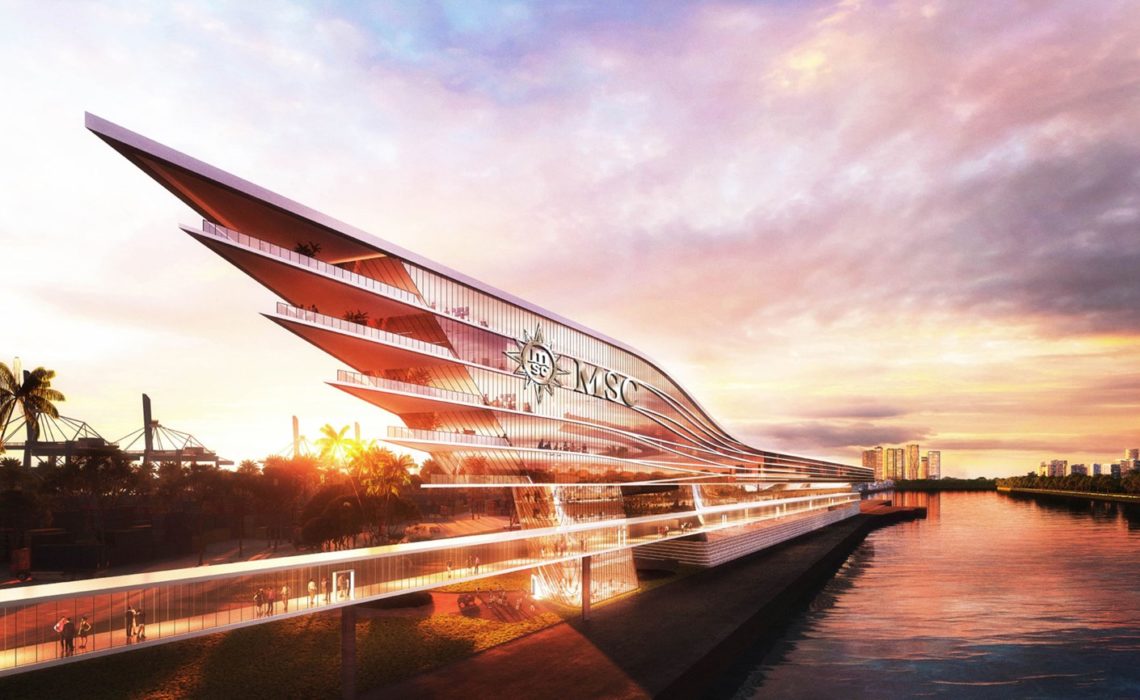 MIAMI BEACH — MSC Cruises became the latest cruise company to unveil designs for a deluxe new terminal at Port Miami, joining Royal Caribbean Cruises Ltd. and Norwegian Cruise Line Holdings in building a futuristic-looking structure on the channel where cruise ships depart the world's largest cruise port.
MSC said it won approval from the Miami-Dade Board of County Commissioners for a large building that will include two terminals and two berths. MSC will build and maintain the terminals, which will be designed by the global architecture firm Arquitectonica, which is also designing the new terminal for Virgin Voyages at Port Miami.
MSC said the terminals will be able to simultaneously accommodate two of its largest ships with throughput of 28,000 passenger embarkations and debarkations per day.
"With another 13 cruise vessels due to join our fleet in the next eight years, our ambition is to have our most innovative ship classes represented at PortMiami, bringing a wealth of choice to our North American as well as international guests," MSC executive chairman Pierfrancesco Vago said.
The terminal plan is another sign of MSC's ongoing commitment to developing more business in North America.
MSC currently operates four vessels out of PortMiami: MSC Seaside and MSC Armonia year-round, MSC Divina seasonally and MSC Meraviglia seasonally, starting this fall.
With the new cruise facilities, MSC Cruises will bring a total 1 million guests through PortMiami each year, MSC said.
Work on the new terminals is due to begin in early 2020 and is estimated to be completed by late 2022, MSC said.
Source: travelweekly.com