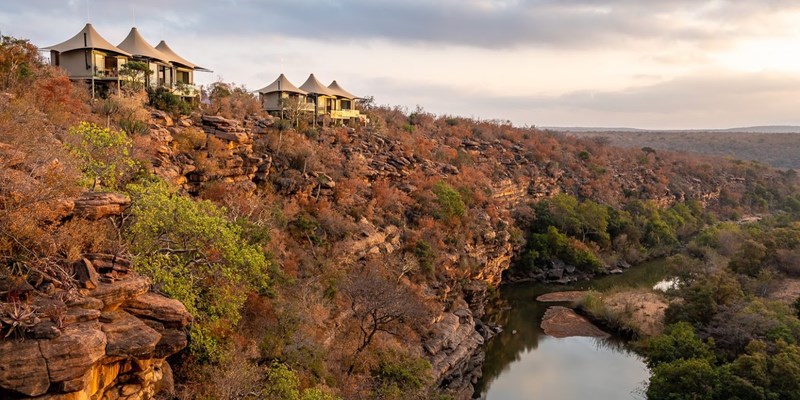 Lepogo Lodges has opened its first lodge in South Africa, the Noka Camp in the Lapalala Wilderness Reserve, in Limpopo province. A second lodge, Melote House, is scheduled to open in 2021, and will be an exclusive-use property accommodating 16 guests.
Noka Camp has five stilted villas, including one for families. The central main lodge comprises a dining room, bar, lounge area, and an outdoor terrace. The camp sits atop a 30m cliff, overlooking the Palala River.
Lepogo Lodges is one of Africa's few entirely not-for-profit, high-end safari lodge companies. 100% of any financial gains made are re-invested back into the reserve for the benefit of the wildlife, conservation and the local community. "We wanted to create a sustainable conservation legacy for future generations," said Kate Hughes, Operations Director at Lepogo Lodges. "By reinvesting back into the reserve for conservation projects, we can ensure that this happens."
Some of the projects Lepogo Lodges has been involved with are the re-introduction and study of cheetah in the reserve, and the continued protection of rhinos in Lapalala. It is also having discussions to create a pangolin sanctuary. "We are working with the local communities who are incredibly talented," said Hughes. "Timola grow their own moringa and bulbine and we are developing products with them for our lodge, along with Kamatasogo ('changing lives stitch by stitch'), who make beautiful products for our shop." Lepogo is also working with women from Mogalekwena, who make placemats from the Palala palm, as well as linen products, and with the Lapalala Wilderness School by offering placements to students from the local communities.
Carbon offsetting
Noka Camp is entirely off the grid, with all its energy self-generated. Hughes said the company would offset the carbon footprint of every guest, from the time they leave home to when they arrive at the lodge, and also on their return trip.
"Different modes of transport and different styles of travel carry different levels of emissions. When you are at the lodge, our team will go through your journey with you and calculate the carbon emissions for your journey," she said. This will then be converted into a monetary value, and guests will be able to choose which carbon offsetting programme they would like that value given to.
The carbon offsetting projects include the Community Stove Project, the SA Forest Trust, and Stand for Trees.
Source: tourismupdate.co.za