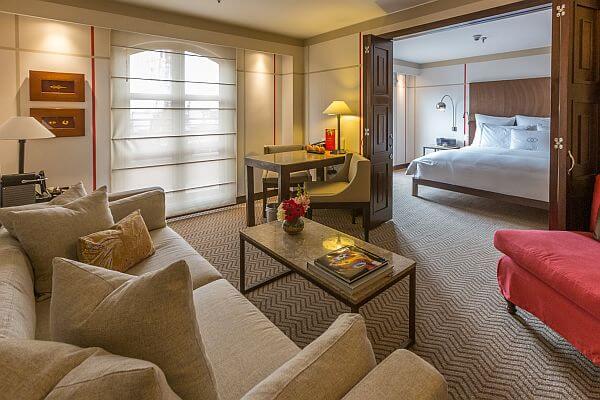 We've had a correspondent in Colombia reviewing some new properties and filling in some gaps in our coverage. The latest luxury hotel review we've added is the Sofitel Victoria Regia in Bogota.
This upscale property from the French chain Accor injects a little Parisian "Ooh La La" into this Latin American capital city. The public areas are stylish, there's a Golden Key concierge to make your Bogota visit a special one, and there are a lot of additional services included here that make this Sofitel Victoria Regia stand out.
If you're a female traveler staying three nights or more, you get special treatment, including some extra amenities delivered to your room each day. In addition to the fitness center, weights, yoga mats, and jump ropes can be delivered for in-room use. There's daily tea time and jazz nights. If you've got a local business meeting, you can show up in style:
If you're at the hotel on business or simply need to get around, a chauffeur-driven Mercedes is available for guest use, free of charge, from Monday through Friday from 7 am to 9:30 am for trips within five miles of the hotel which is centrally located in Zona T.
There's a rotating display of local art in the hotel and a "jazz and wine" night on Tuesdays and Thursdays. A small spa is on site.
With just 102 rooms, this is not a sprawling Sofitel, so there's just one bar and restaurant on site. A buffet breakfast is included in the rates, complete with individual French press coffee servings for your table. At night it becomes a more elegant, fine dining space. There are plenty of other places to try out near the Victoria Regia since this is a lively area in Bogota.
Standard rooms are only 330 square feet, but are well-equipped with all the luxe amenities you would expect from a Sofitel property and you'll have plenty of pillows to pick from. It's worth trying to snag one of the five Junior Suites on the 8th floor. They offer a lot more space, with a separate living room, two TVs, a jetted tub, a long furnished terrace, better Hermes toiletries, and Nespresso coffee and tea service.
It's a tough market for high-end business travelers in Bogota these days, with two Four Seasons properties, a JW Marriott, a W Hotel, and several upscale boutique properties. This competition is raising the service bar for everyone though, which is bringing the quality up across the board as visitors to Colombia keep increasing.
Source: luxurylatinamerica.com