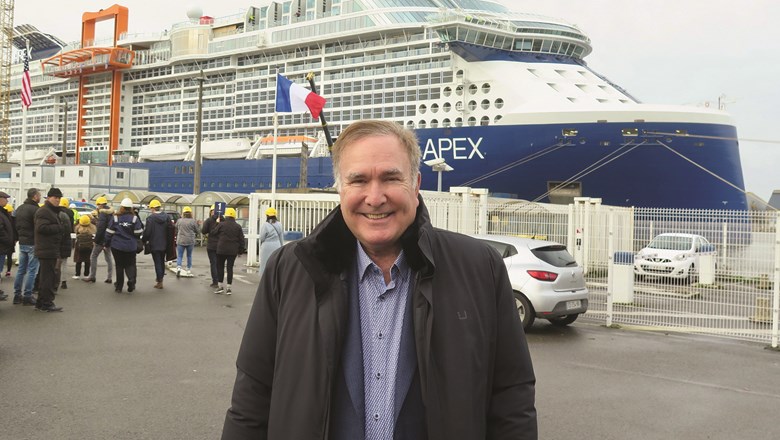 Royal Caribbean Group's no-interest loan program for travel agencies was designed to enable them to focus on growth and sales rather than on staying afloat, company CEO Richard Fain said.
In an interview Monday, Fain said that the Pay It Forward program, which earmarks $40 million for interest-free loans of up to $250,000 for travel advisors, will give them "breathing room" and make their businesses stronger.
"Making sure that you're financially strong and that you have liquidity and financial resources takes a lot of effort, and it can distract you from running your business," Fain said. "This allows them to play offense and to manage the business and to do what they do best, which is selling cruises, rather than spending all their time with finance people."
By offering three-year loans, he said, agencies will have "more breathing room" so they can "focus not on liquidity but on generating business."
Fain said that Royal recognized that "it is in our best interest that the travel advisor community be strong. This has been a challenging time. As a larger company we have access to capital markets that some of the travel advisors don't have. And so we think this was not only the right thing to do but also in our best interest, to help support a strong travel advisor community which helps us sell cruises in the long run."
And since the pandemic has gone so much longer than anyone expected, putting greater and greater strain on the travel business in general and the retail channel in particular, the need for assistance is increasingly important. "We wanted to do something to help," Fain said.
Travel agencies this year have been asking cruise lines to consider changing their commission payment plans to pay at the time of booking rather than once travel has been completed, as a way to help them through the pandemic. Fain said that while there are many ways to help agencies, Royal wanted to do something that wasn't tied explicitly to an agency's business with the company's brands — in the U.S. it operates Royal Caribbean International, Celebrity Cruises, Azamara and Silversea.
Pay it Forward is the second phase of Royal's RCL Cares program, which it launched in April with a program to help advisors navigate the Cares Act through one-on-one assistance from its sales teams.
The cruise company will release more details on how agencies can qualify for the loan next month. Fain said travel agencies have already reached out to thank Royal.
"They weren't expecting something like this, and it's nice to give someone a pleasant surprise once in a while," Fain said.
Alex Sharpe, CEO of Signature Travel Network, said that "folks are excited."
"All of this stuff is so critical for our members survival, but also positions their agencies, and our industry, to thrive coming out of this," he said.
Matthew Upchurch, CEO of Virtuoso, called the program a "tangible example of a partner who understands that agencies and advisors are an extension of their smart direct-to-consumer strategy, and that your health and well-being directly affect their own.
"It serves to remind us, as we head into 2021 and a travel recovery, that we will support preferred partners like Royal Caribbean Group and others who continue to support the network," Upchurch said. "Richard's announcement has brightened my week and further strengthened my ongoing belief in the power of partnership."
Source: travelweekly.com