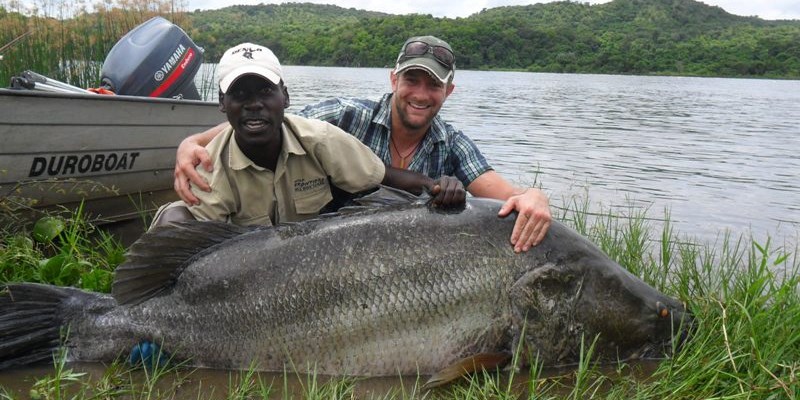 Anglers are gearing up to enjoy fishing season in Uganda this month.
The dry season, usually from July to October, brings the best opportunities for sport fishing around the Murchison Falls National Park.
Uganda offers tourists at all levels, some of the best fishing opportunities in East Africa, with a third of the country covered water and over 350 species of fish in wetlands and lakes. Licensed sport fishing venues in Uganda includes Sipi Falls, Murchison Falls, Lake Mburo and Lake Victoria.
Permits are required and can be obtained from the Uganda Wildlife Authority. All fishing ideally requires a guide and expert assistance to ensure safety and the best opportunity of success. Fishing is conducted with conservation in mind with anglers applying the catch-and-release rules.
Murchison Falls
For the competitive anglers the Murchison National Park offers some great challenges along the southern and northern banks of the River Nile below the Murchison Falls. Anglers can attempt to beat the current record of a 113kg Nile Perch or 45kg catfish, while those less interested in competition can enjoy reeling in Tigerfish, Tilapia and lungfish, to name a few.
Fishing quality varies throughout the year, however the drier months produce better results, with recommend times being January to March or July to October.
MD of Navigate Africa Safaris, Roy Glasspool, says: "Murchison Falls is one of the best places in Africa to catch big Nile Perch living in the turbulent waters below the falls. It is very popular for sport fishing and a number of tours I have organised at Murchison have ended in big Nile Perch being caught.
"Anglers need strong tackle and the right hooks if they want to bring in the more competitive Nile Perch around the Falls," he says.
Lake Victoria
Fishing on the lake is usually conducted around the local islands and most visitors take a 45-minute boat ride from Entebbe.
There's sport-fishing on Lake Victoria all year round, but October to March is considered the best period. This season offers anglers the opportunity to catch a Nile Perch of anywhere from 10-80kg.
Source: tourismupdate.co.za