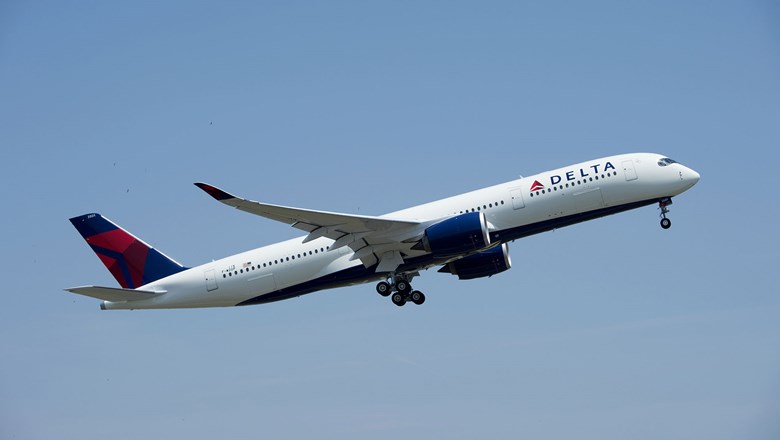 Delta Air Lines' 2019 profit was an all-time high and 21% higher than the year prior. The airline reported net income of $4.77 billion.
The strong earnings are one factor that led CEO Ed Bastian to label 2019 a "truly outstanding year on all fronts."
"2019 was the best year in our history," Bastian said during the carrier's earnings call Tuesday.
Wall Street appears bullish, as well. Delta stock was up nearly 4% in the early afternoon.
Delta's record net income beat its previous high of $4.53 billion in 2015, with some help from the lower corporate tax rate that went into effect in 2018. The carrier's pretax income of $6.2 billion last year was nearly $1 billion less than 2015's record total of $7.16 billion.
Still, Delta's 2019 results came on record operating revenue. The carrier's top line in 2019 was $47 billion, a 6% increase. Notably, Delta reported a 9% growth in business and premium product sales and a $500 million jump in loyalty program revenue to $1.96 billion. Delta's load factor of 86.3% was also a record as the airline carried 204 million passengers.
Bastian described Delta's revenues and profit as "industry leading." But financials weren't the only success that he touted. Delta enjoyed 165 days without a cancellation of any Delta-marketed flight last year, including flights operated by regional carriers under the Delta Connection brand — a 15% improvement from 2018. On mainline operations, Delta reported 281 cancel-free days last year, down 12% from 2018.
In addition, through October (the last month for which the Department of Transportation has reported statistics) Delta had a 2019 on-time performance of 83.1%, second among mainline U.S. airlines to Hawaiian's 87.6%.
For the fourth quarter, Delta recorded revenue of $11.4 billion, beating analyst expectations by $70 million, according to the website Seeking Alpha. The carrier's earnings per share were $1.71, 30 cents more than analyst expectations.
Source: travelweekly.com