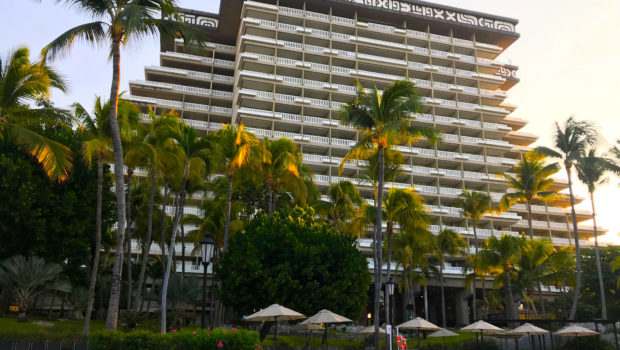 During my recent visit to Acapulco to cover Tianguis, Mexico's big tourism conference, to write news reports for TravelAge West, I stayed at the Princess Mundo Imperial, an imposing resort set in Acapulco's Diamante district. This is a review of my experience.
THE AMBIANCE: With multiple buildings along a wide beach, this large-scale Acapulco resort is designed for vacationers on a large scale (as well as the meetings and conventions market, since it has a lot of meeting facilities). The main building is a vaguely Aztec-inspired piece of architecture, and it's difficult not to look up when you enter the impressively scaled lobby, thanks to its soaring atrium. My check-in was prompt and I was ready to head to my room in a matter of minutes.
MY ACAPULCO HOTEL ROOM: I stayed in room 1521, which I believe is a standard oceanfront room. Rooms here are more spacious than average and, while not fully updated with amenities like easily accessible outlets for charging cell phones near the bed, it's overall well furnished for a comfortable stay. The air conditioning was especially powerful (if you want it to be), and the balcony was rather large, offering a sweeping view of the expansive pool area, the beach and the Pacific coast. The bathroom featured an ante room with one sink, attached to another room with a sink, toilet and bathtub/shower (bathtubs are increasingly uncommon in modern hotels, so if you like baths, this is a good place to be).
ACAPULCO HOTEL FEATURES: The most compelling feature at this Acapulco hotel, by far, is the swimming pool area, an expansive piece of lushly landscaped real estate with two large pools, a water slide and a family of flamingos, ducks and peacocks strolling the grounds. I was also impressed with the gym, which was much larger and better equipped than most hotel fitness centers.
If you're accustomed to resort hotels in places like Cancun and the Riviera Maya, you should note that the Princess Mundo Imperial is not all-inclusive (although they do offer an all-inclusive options, at least through some vacation packagers). There are multiple restaurants and food and drink venues, but I only had time to sample two: Café Et Chocolat, a casual café that served tasty sandwiches on fresh bread, and the Laguna Bar, a lobby bar where we sipped cocktails one evening while a live band played.
The attractions and activities of traditional Acapulco are not close to the Princess Mundo Imperial, as Diamante is a newer area, close to the airport. And you can't easily walk to anything either, since the hotel is set back quite far from the main road, on a very large property graced with pretty golf courses. But a variety of shopping (especially at La Isla shopping center), dining and beach-related activities are a few minutes away by car or taxi, as is the Mundo Imperial convention and event center, where shows sometimes take place.
Note that in Acapulco, ride-share services like Uber do not exist, and taxi fares can be higher than expected. (Cancun has had a similar problem with a lack of Uber and overpriced taxis. Someone needs to work on that!)
CELEBRITY TRAVEL ALERT: Like many longstanding hotels in Acapulco, the Princess has hosted famous guests. Howard Hughes, once the richest man in the world, lived in the top floor of this hotel during what turned out to be the last few months of his life; he died on a flight from Acapulco to Houston.
BEST FOR: This Acapulco hotel is great for leisure travelers looking for a mid-priced Mexico vacation that's not all-inclusive, but where they can spend lots of time on the beach and at the pool. With its extensive meeting and event facilities, the Princess Mundo Imperial is also ideal for destination weddings, meetings and conferences.
Source: latinflyer.com