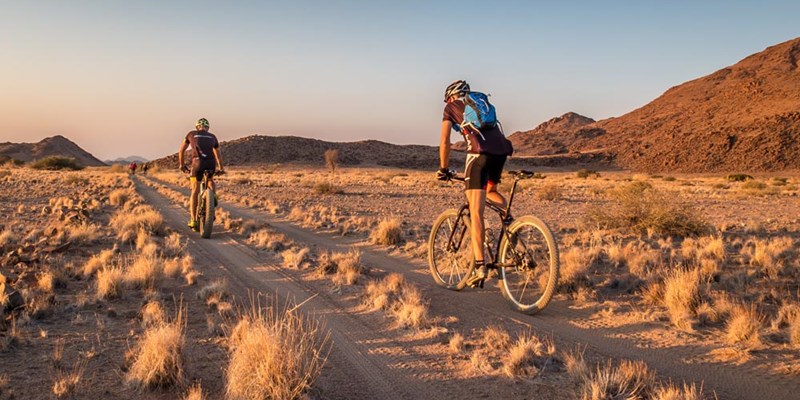 Kerry Hayes
Ultimate Safaris has introduced a new fleet of trail bikes at Sossus Under Canvas.
The Titan Comp Plus Trail Bikes are ideal for biking through the 24 000-hectare Namib Tsaris Conservancy, making use of established trails and routes that cater for all ages and levels of fitness. The activity has been included at no additional cost.
Trails incorporate a multitude of terrain, including gravel plains, mountainous areas, dry river valleys, and desert, and give cyclists the opportunity to see the wildlife that resides in the conservancy. These include oryx, springbok, Hartmann's Mountain zebra, Burchell's zebra, kudu, hartebeest, giraffe, steenbok, klipspringer, bat-eared fox, aardwolf, leopard, cheetah, and brown and spotted hyena.
The conservancy is looking at reintroducing the critically endangered Black rhino in the future, as well as acquiring the adjoining land.
"Activities at Sossus Under Canvas also include excursions to the Sossusvlei dunes and Deadvlei with your private guide, and general exploration of the private Namib Tsaris Conservancy," says Tristan Cowley, Co-Founder and Managing Director of Ultimate Safaris. "The latter includes nature walks and drives, magic moments in desert pools, star-gazing and now the cycling. There is also the opportunity to visit the Neuhof Plateau, which offers some of the best views over the Namib Desert.
"In addition to all this, Sossus Under Canvas provides a convenient base from which to go on hot-air balloon flights as well as helicopter and fixed-wing aircraft scenic flights over the local area. It is also a great venue for photographers, offering fantastic landscapes, iconic quiver trees, and the opportunity for night-time photography, which is often very difficult to arrange elsewhere," adds Cowley.
The camp can be accessed either by road from Windhoek or Swakopmund, or any other nearby destination, or by light aircraft to a nearby airstrip.
Source: tourismupdate.co.za